Type of ostomy bag
a) Closed-endedbags;

b) Open-endedbags

c) Urostomybags.

Composition
One-piece bag: consist of PE or EVA film,non-woven and bag closure

Two-piece bag: consist of plate, ring, PEor EVA film, non-woven and bag closure

Appearance
The surface of collection bag should besmooth, be free of burrs, no leakage. The plate should be no stain, noslippage, the surface of ring should be no burrs.
Product pictures: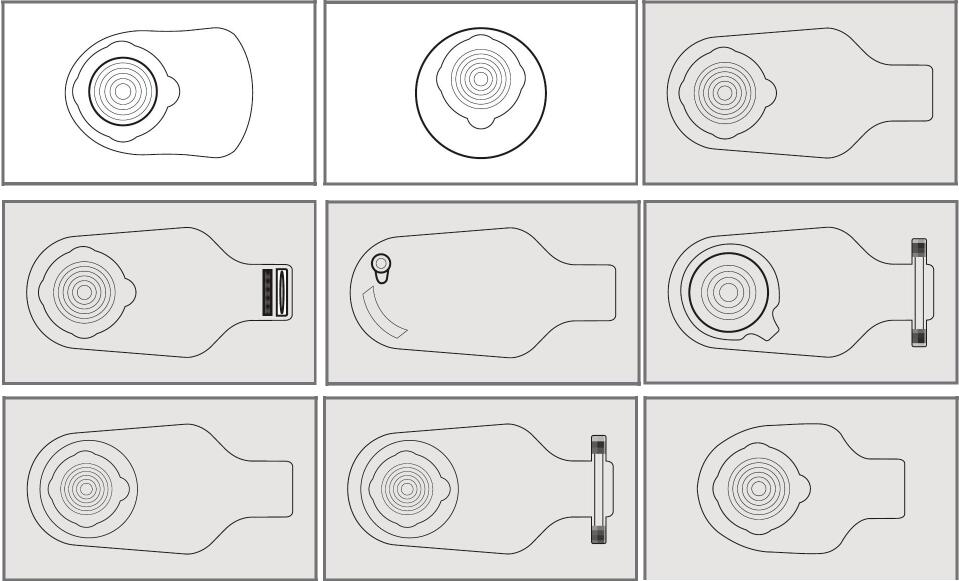 Instructionuse for one-piece Ostomy bag
1.Clear the skin around the stoma with tepid water or saline.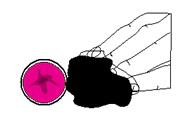 2.Cut the hole on the skin barrier according to the stoma size andshape.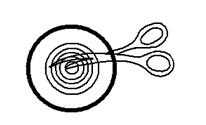 3.Put the gauza on the stoma to prevent the exudates from outflow duringsticking of skin barrier.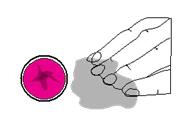 4.Open the clamp.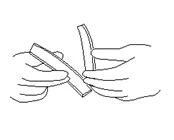 5.Close the ostomy bag with the clamp.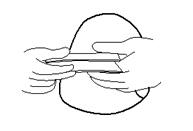 6.Peel off the release paper.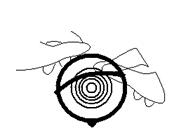 7.Get some air into the bag in case of layers of the ostomy bag stickingtogether. Put the skin barrier on the stoma area and press it from bottom up tomake it completely conglutinate with the skin.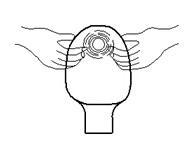 8.Open the end of the ostomy bag and make the excrement out into thetoilet. Clean and dry the bag for next use.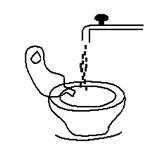 Caution:
1. It is used for patients with stoma problem.
2. Skin barrier can be used for 5 to 7 daysusually, adhesive ability will be affected by continuous use.
3. If the bag is full of air, a small hole can bemade on the bag and it is suggested to use carbon active cassette.
4. Ostomy bag can not be recycled.

5. Ostomy bag can not be threw directly into toiletor cloaca, and should not be discarded at will. Please pay attention to theenvironment protection.

6. Patients allergenic to adhesive should use it with caution.
Accessories: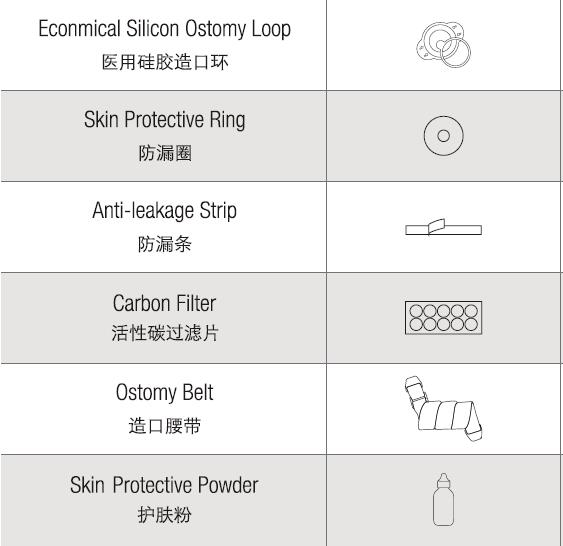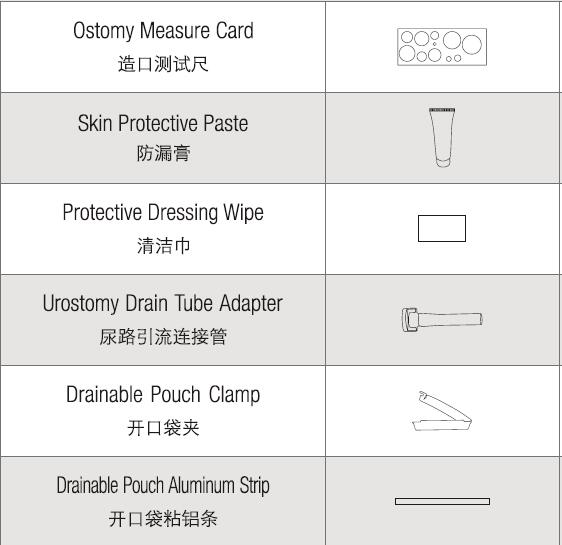 Storage
Ostomy bag shall be stored in awell-ventilated clean room with relative humidity less than 80%, temperature-10℃ to 40℃ and no corrosive gas.
FAQ
1.Q:What is the size of min.cut?
A: Min.cut is 15mm
2.Q:What is material of protect film?
A:The material is PET film
3.Q: Which is the function of carbon filter?
A:The high efficient and special carbon filter can prevent the intestinal gasfrom leaking.
4.Q:Expiry date of ostomy bag?
A:Expiry date is 3 years.
5.Q:Which sorts of disease and positionsneed ostomy bag?
A:Colostomy, llestomy,temporary stoma,urostomy
Product Categories : Surgical Instrument > Ostomy Bag